Walked to school and home with the girls. Read a magazine after I finished my night work.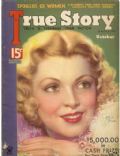 Claire Trevor (March 8, 1910 – April 8, 2000)
October 1934

An Academy Award-winning actress, Trevor was nicknamed the "Queen of Film Noir" because of her many appearances in "bad girl" roles in film noir and other black-and-white thrillers. She appeared in over 60 films. She won the Academy Award for Best Supporting Actress for her role in Key Largo and was nominated for her roles in The High and the Mighty and Dead End.

Claire Trevor died of respiratory failure at the age of 90 in Newport Beach, California. For her contribution to the motion picture industry, she has a star on the Hollywood Walk of Fame at 6933 Hollywood Blvd.