I rode the streetcar to school with Pauline. In the evening she and Nadine and I went up to the school program. I stayed at Mrs. Raifert's.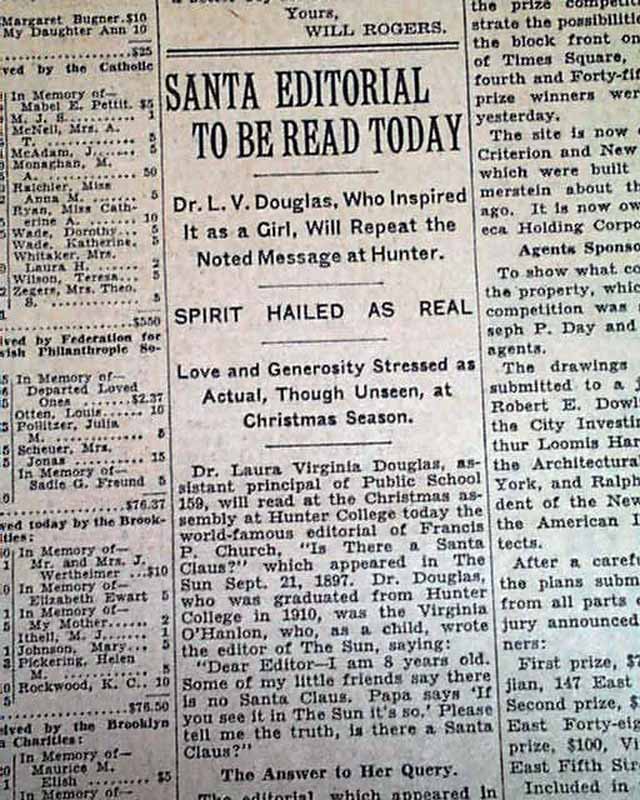 New York Times - December 20, 1933

"Yes, Virginia, there is a Santa Claus" - Francis P. Church, The Sun, September 21, 1897

Virginia O'Hanlon's full name was Virginia O'Hanlon Douglas. She was born on July 20, 1889 in Manhattan, New York. Her marriage to Edward Douglas in the 1910s was brief, and ended with his deserting her shortly before their child, Laura, was born. Virginia was listed as divorced in the 1930 United States Census.

Virginia received her Bachelor of Arts from Hunter College in 1910; a Master's degree in Education from Columbia University in 1912, and a doctorate from Fordham University. Virginia was a school teacher in the New York City School system. She started her career as an educator in 1912, became a junior principal in 1935, and retired in 1959.

Virginia O'Hanlon received a steady stream of mail about her letter throughout her life. She would include a copy of the editorial in her replies. In an interview later in life, she credited the editorial with shaping the direction of her life quite positively.

Virginia died on May 13, 1971 in a nursing home in Valatie, New York. She was buried at the Chatham Rural Cemetery in Chatham, New York.