Today was Mother's birthday. Walked to school with Pauline. She got mad after school. Ruth Ray and I walked over to Central Junior's program.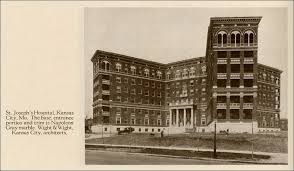 St. Joseph Hospital - 1917-1977
Linwood & Prospect
Kansas City, Missouri

Founded in 1874 by the Sisters of St. Joseph of Carondelet, St. Joseph
Hospital was originally housed in the old Waterman house at 7th and
Pennsylvania. In 1917 the new hospital opened at Linwood and Prospect.
It was the latest word in hospital construction as it was built in the shape
of an "X" so that every room was on the outside. The hospital moved to
its present location at I-435 and State Line in 1977.