Stayed home from school today. Got me a new pair shoes, hose, hat, dress. Mother got her a permanent wave. Pauline was down.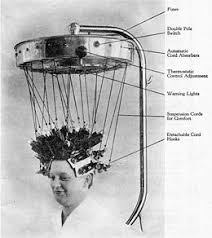 1930s Permanent Wave Machine
Patented by German inventor Charles Nessler

Prior to the twentieth century, a woman with straight hair who desired curls had to spend hours
heating curling irons over a flame or sleep with rags and pins in her hair in order to achieve waves.
If she could not attain the desired result this way (or tired of the short-lived effects) she may have
used false hair pieces instead. But beginning in the 1920s, women born with flat locks saw new hope
for attaining long-lasting curls. Through the promise of science, rather daunting contraptions like
this late 1930s permanent wave machine offered "permanent" results via a combination of chemicals
and electrically heated clamps.

To perm: Hair was wound up on spiral rods, then the machine was attached to the ends of the rods
and the hair was "steamed." Finally a blower was used to cool off the hair but the scalp was often
burned, sometimes even scalded.

Permanent waves cost $1 in 1934.