I lost my mirror. This evening I done all my lessons. Helen came down and we went and got us eacher book.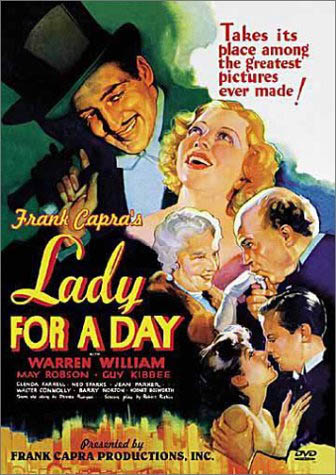 Lady for a Day premieres on September 7, 1933

Starring Jean Parker, Warren William, Glenda Farrell,
May Robson and Guy Kibbee

Produced and Directed by Frank Capra



"Apple Annie" is a near destitute street peddler who has invented the false

identity of a wealthy matron of high society in letters to her daughter who has

been raised in Spain. The ruse is threatened when the daughter becomes engaged

to a Spanish nobleman's son, and his family insists upon meeting the daughter's

family prior to the nuptials. When Annie learns they are all coming from Spain to

visit her, she becomes near-suicidal until "Dave the Dude," her dubious crime-boss

benefactor, finds her.




Dave is a local racketeer with a superstitious sense of responsibility for

Annie's welfare, convinced that buying her apples has been what maintains

what maintains his good luck in the various underworld schemes he manages.

He enlists his criminal associates in a plot to fool the soon-to-arrive nobleman,

son and daughter, by dressing up his cronies and rehearsing them on proper etiquette.

He puts Annie into a luxury apartment, equips her with a respectable husband

(actually a local pool shark) named Judge E. Worthington Mansville. But

the scheme goes an unexpected path when Annie becomes more than convincing

as a dignified and maternal woman.




NOTE: This is a wonderful movie. If you haven't seen it, rent it. And enjoy!