I went down swimming with Pauline to the Grove. Helen came down there with her mother and my mother.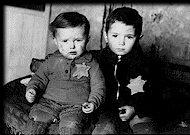 Emanuel and Avram Rosenthal, killed at Majdanek

July 14, 1933: The Nazi Party is declared the only legal party in Germany.
The Nazis also pass a law stripping Jewish immigrants from Poland of their German citizenship.