Cleaned up the house today. Took a bath. Went up to Pauline's. Played ball, danced, etc. Ruth Ray came by this p.m.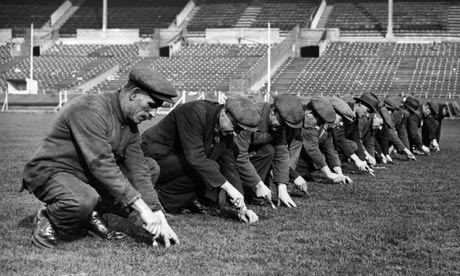 Weeding Wembley - April 28, 1934



A row of stadium groundstaff meticulously pick out dock leaves, dandelions and daisies by hand from the hallowed Wembley turf in readiness for the FA Cup final between Manchester City and Portsmouth later that Saturday. The game was played in a thunderstorm which rendered the pitch sluggish, with City emerging 2-1 winners. "While [the Manchester City captain] Cowan strode majestically with the cup - and Brook, like a schoolboy, ran off with the lid - the Portsmouth players stood like men dismayed and dazed by a sudden calamity," reported the Manchester Guardian on the following Monday.