Walked with Ruth Ray, Nadine and Pauline to school. I sure felt stiff. Waited for the kids this p.m. Traded for a movie magazine and read it.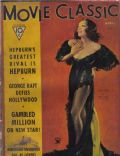 April 1934
Cover image: Lupe Vélez (July 18, 1908 – December 14, 1944)

Vélez began her career in Mexico as a dancer, before moving to the U.S. where she worked
in vaudeville. She was seen by Fanny Brice, who promoted her, and Vélez soon entered
films, making her first appearance in 1924. By the end of the decade she had progressed to
leading roles. With the advent of talking pictures, Vélez acted in comedies, but she became
disappointed with her film career, and moved to New York to work in Broadway productions.

Returning to Hollywood in 1939, she snared the lead in a B comedy for RKO Radio Pictures, The
Girl from Mexico. She established such a rapport with co-star Leon Errol that RKO made a quick
sequel, Mexican Spitfire, which became a very popular series. Vélez perfected her comic character,
indulging in broken-English malaprops, troublemaking ideas, and sudden fits of temper bursting
into torrents of Spanish invective. She occasionally sang in these films, and often displayed
a talent for hectic, visual comedy.

Vélez had a number of highly publicized affairs but married only once, for five years to Olympic
athlete Johnny Weissmuller (of Tarzan fame). In the mid-1940s, Vélez began a relationship with
actor Harald Maresch, and became pregnant with his child. Supposedly unable to face the shame
of giving birth to an illegitimate child, she decided to take her own life. Her suicide note read:
"To Harald: May God forgive you and forgive me, too; but I prefer to take my life away and
our baby's, before I bring him with shame, or killin' [sic] him. Lupe."

Buried in Mexico, Lupe Vélez has a star in the Hollywood Walk of Fame at 6927 Hollywood Boulevard.