Today was our last day of school. Got report cards. When I came home from school, I had red spots all over me. Doctor said measles rash.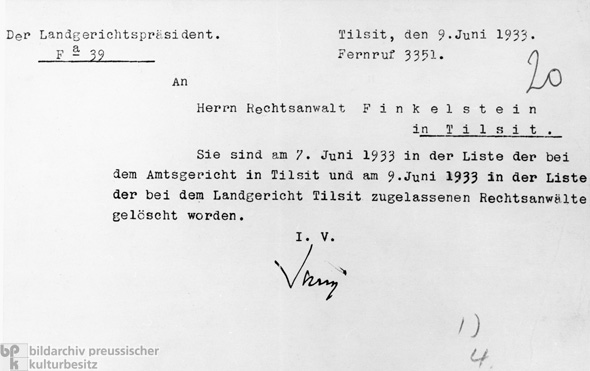 On June 9, 1933, the President of the District Court in Tilsit, East Prussia, sent the above notice
to a Jewish lawyer named Finkelstein. It relayed the news that Mr. Finkelstein's name had been
removed from the list of lawyers licensed at the local court in Tilsit on June 7, 1933, and from
the list of lawyers licensed at the Tilsit district court on June 9, 1933. This was in keeping with
the Reich Ministry of the Interior adopting the "Law Regarding Admission to the Bar" on April
7, 1933. From that point on, lawyers who were considered politically unreliable or of "non-Aryan
descent" were dismissed or forced into retirement.