I got up today as I got over that measles rash. I went outside a little bit and talked to Betty, Joyce and Baby Doll.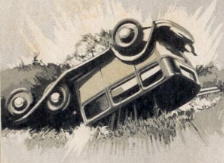 On June 10, 1933, Bonnie Parker, Clyde Barrow and W.D. Jones were traveling at a high rate of speed.
Seven miles north of Wellington (Texas) Clyde realized too late that the bridge was out
and flipped the car into the ravine below. Clyde and W.D. were uninjured and retrieved
the weapons from the wreckage. A spark ignited the leaking fuel and started to burn Bonnie,
who was pinned underneath the car. W.D. and Clyde heard Bonnie's screams and tried in vain
to lift the car up enough to free her. Her face, arms and legs were badly burned before two witnesses
to the accident helped lift the car off her. After that Bonnie was always seen being carried around by Clyde.